Our spacious complex brings you 10 reception halls, four of which feature a splendid terrace. Plaza Rive-Sud welcomes all events of 10 to 1600 guests and is the perfect place to organize your happy hour, business meeting, conference, seminar, training or showroom.
Take advantage of our personalized service, high-speed Internet access, and free parking.
Come meet our consultants for a tour of our premises.
There are several other options available to you, including the possibility to create your custom package.
Several other options are available, including the possibility of creating a custom package.
Prom
Our sumptuous reception halls are a fitting venue for a prom. We'll make your prom a night to remember in an elegant and chic atmosphere!
Learn more about our turnkey package and enjoy the personalized service we have to offer.
Contact us today to book your venue!
Christmas
During the Holiday season, Plaza Rive-Sud puts on its winter coat and its most beautiful adornments to create an enchanting setting in which to welcome you. Each one of our reception halls is tastefully decorated and includes Christmas-themed centerpieces.
Come and enjoy the holiday frenzy and end the year on a high note!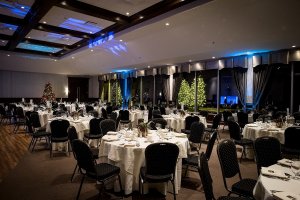 Corporate Party
Are you an SME that's looking for the right place to celebrate the holidays? Look no more!
Plaza Rive-Sud offers a turnkey package that includes a cocktail, a 4-course gourmet menu, half a bottle of wine per guest, and entertainment for the night.
Let yourself be carried away in an enchanting setting and make friendly encounters with other peers.
Find out more about our custom packages
Our experienced consultants will gladly provide you with all the information you need on our wide selection of custom packages that can be tailored to your needs. Feel free to contact us today!